European Handcuff Convention 2017
written 2017-10-21

The general feeling from all conventioneers was that EHC2017 was a success. Not the least because restaurant, hotel and convention room were so close. Hence one could talk and chat not only during convention time proper but also at the breakfast table, at lunchtime, and in the evenings in the restaurant over some glasses of beer or wine or rhubarb juice.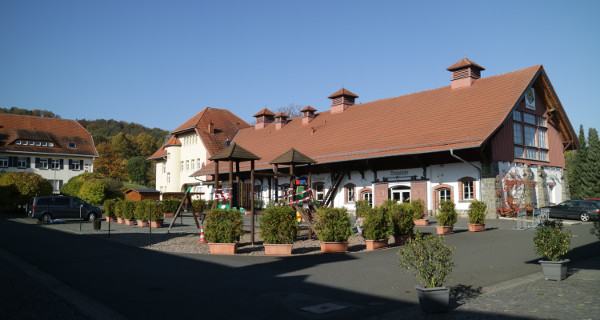 And the overwhelming mood at the convention has been that there should be another European Handcuff Convention in two year's time, and that the Gutshof Herborn is a really good venue where people would like to come back to.
Already at this point in time I would like to know what would be a good time to hold the next convention. Avoid holidays? Earlier in autumn than October? One thing I learned that fixing the date well in advance allows people to better remove stumbling blocks from their calendars.
We had not two but four presentations:
Restrains in Past and Present Times
Menschloss - a new patent - after a hundred years of swinging through
A visit to the Yuil factory
Horst Stein but actually Kurt Metk

And these presentations plus discussions made for an interesting part of the afternoon.

If you might be coming to the next EHC please send me an email, address ehc2017 AT haelden DOT de, so myself - and potential fellow organisers - already have a way to contact you once further details will be fixed.

Dear Conventioneers, it was fantastic to have you at the convention
Klaus
---
written 2017-08-28
Hotel (clarification)
You need to book by phone or email to get the discounted room rates.
Earlier today I gave them a phone call. They are aware of "EHC2017" but emphasised that discounts are not available through web-based booking.
Important dates (repeat)

31-AUG-2017 discount offer for hotel Gutshof Herborn ends
04-OCT-2017 have registered (with me)
14-OCT-2017 Convention day

Programme (update)
Two presentations suggested to me. Please come forward with further suggestions.

written 2017-07-10

get there by train:
in Frankfurt airport head for Terminal S - that is the S-Bahn station which is underground
go there to platform 1 (you have your ticket?) any train there should head into Frankfurt Hauptbahnhof
alight at the first station below ground (the 3rd station if you count)
take the escalators up into the main concourse of Frankfurt Hauptbahnhof
direct trains to Herborn leave at platform 14-ish, destination Treysa/Dillenburg
board the part near the buffer stop, these direct trains split in Giessen, with your part changing direction in Giessen
after Giessen comes Wetzlar and then Herborn
4 possibilites (1) you may be met (2) there is a taxi rank (3) walk just short of 1 mile (4) take a bus
welcome to Gutshof and EHC

get there by car:
leave the Autobahn A45 at exit 29 Herborn-Süd
turn right at the end of the slip road
turn again right, not left, at the T junction
after about 1km at the roundabout turn right, and right again immediately after it
welcome to Gutshof and EHC

written 2017-03-25

The sixth European Handcuff Convention - EHC2017 - will take place this year in Herborn in Germany 13-15 October 2017. Similar to the previous conventions the main meeting will be all day on the Saturday. It is planned to be the usual combination of tables onto which you can place your items, talks on the topic, and ample opportunity for informal discussions.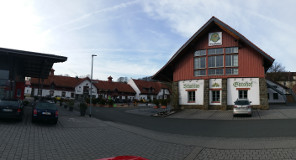 It is taking place in the Gutshof Herborn, a location which offers overnight accomodation, restaurant, and a convention venue. Hotel rooms at the reduced convention price can be booked until end of August. The venue can easily be reached by car via Autobahn A45, by train to railway station Herborn (1.5 km away, local buses ~0.5 km). Nearest airports are Frankfurt and Cologne.
Fri 13 October 2017: arrival, Restaurant "Braustube" 19:00-23:00
Sat 14 October 2017: EHC2017 9:00-18:00, Restaurant 19:00-23:00
Sun 15 October 2017: breakfast, departure

Convention fee
50 EUR for EHC2017 9:00-18:00
This includes refreshments and a buffet lunch (lunch beverages excluded).
You pay me cash at the door.

Convention registration
Send an email as soon as feasible to ehc2017 (a) haelden.de but no later than 4th October 2017. Please write me even if it is a "maybe" only at this point in time. In any case this will put you on an email list for further information.

Restaurant
We have table reservations. You order food and beverages a la carte and pay yourself.

Hotel
If you need overnight accomodation, you organise it yourself. You pay yourself.
Having said that, discounted room rates can be obtained by mentioning "EHC2017" or European Handcuff Convention. You need to book until end of August. Rooms available from 13/10/2017 to 15/10/2017, single price is 65 EUR per night, double price is 95 EUR per night. Price includes breakfast. I have not tried their online booking form, in case of doubt I would send them an email.
Update: only book by phone or email, otherwise you won't get the discounted room rates.

Location
Gutshof Herborn, Zum Gutshof 1, D-35745 Herborn, Germany
www.gutshof-herborn.de
telephone +49 2772 5755740 (from Germany 02772 5755740) - they speak English, too

Important dates

31-AUG-2017 have your hotel rooms reserved
04-OCT-2017 have registered (with me)
14-OCT-2017 Convention day

I am looking forward to meeting you all (again) in October.

Klaus